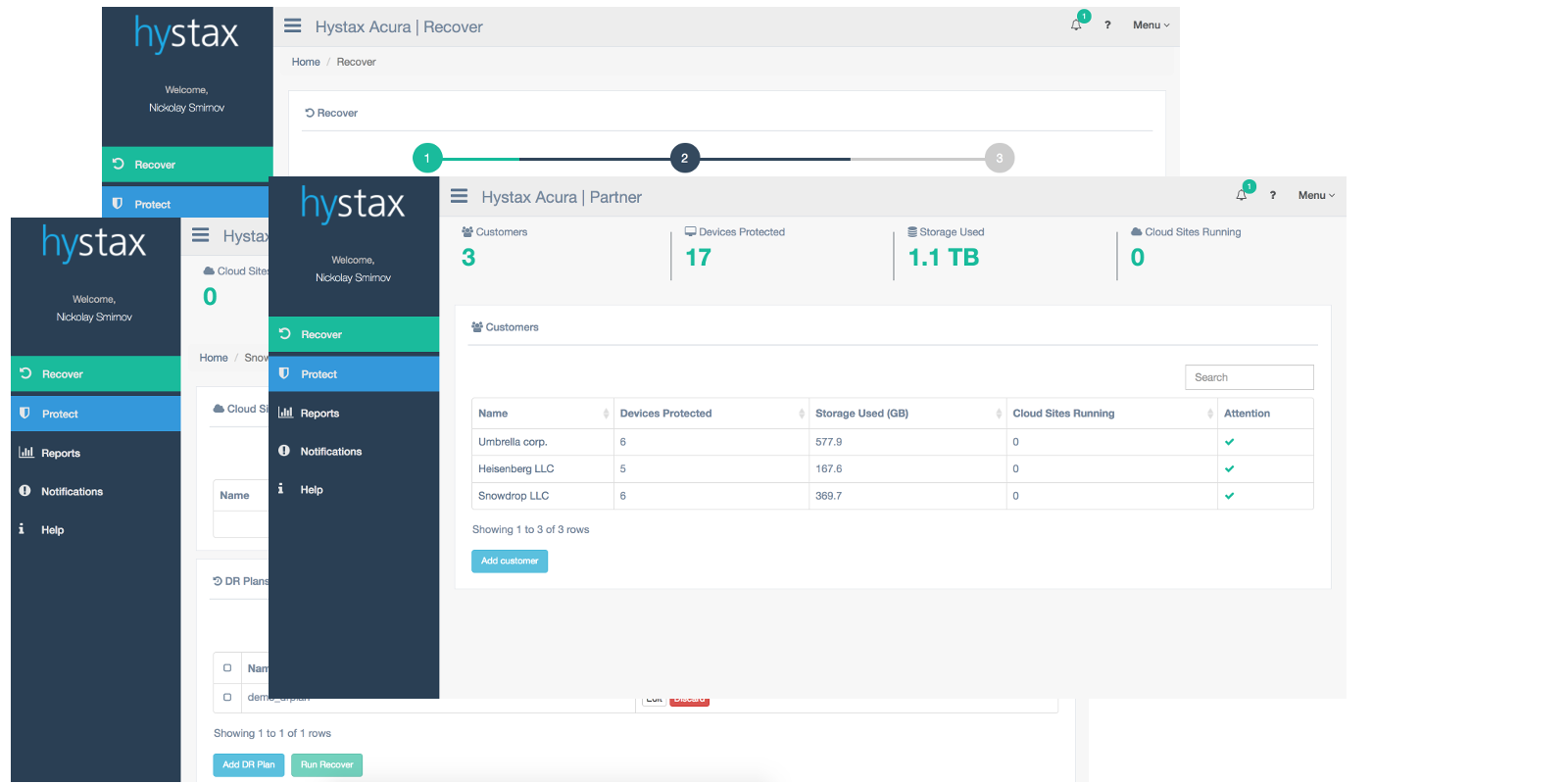 Hystax Acura – a powerful Backup, Disaster Recovery and Migration platform for private cloud and business applications. Enterprise-grade protection and data management in a few clicks.
Double Protection for Your Cloud
Hystax Acura provides you with Active-Active and Active-Passive Disaster Recovery solutions. Turn on both to have Best-in-Class protection or select one which fits your requirements.
Backup and Disaster Recovery
Hystax Acura provides replication of VMware vSphere, Hyper-V, OpenStack and Virtuozzo workloads and instant recovery in a cloud. Minimal RPO/RTO, regular automated Disaster Recovery plans testing, powerful failback to production within minutes.
Enterprise-grade Realtime Migration
Flexible migration scenarios, migrate production workloads to a target site, test infrastructure before make it primary. Realtime delta sync between sites. Switch to a target site with one maintenance window. Supported scenarios of production workload migration: VMware to Hyper-V, VMware to OpenStack, Bare metal to VMware, Hyper-V, OpenStack.
Significant Economy on Backup and Disaster Recovery
Get a robust Backup and Disaster Recovery solution and save on disaster recovery infrastructure and licenses. Hystax Acura uses robust cloud virtualization solution and you don't need to purchase any VMware licenses for DR site.
Active-Active + Active-Passive Disaster Recovery = Double Protection
Active-Active Disaster Recovery provides zero RPO / near-zero RTO and allows to run failover without any data loss. Business application will be launched at the same point the production was before disaster. All devices are in a crash-consistent state. Active-Active Disaster Recovery is ideal for enterprise businesses for whom RPO of more than 15 minutes is not acceptable.
Active-Passive Disaster Recovery provides consistent state of business application and configurable RPO of 15 minutes – 3 hours and near-zero RTO. This type of protection is ideal for medium-sized companies and enterprises for whom zero RPO is not critical but protects you from virus attacks and human error.
Use both types to get zero RPO and snapshots capabilities – this protects you from 100% of all disasters and eliminates data loss.
Powerful enterprise migration within a small maintenance window
Automated enterprise-grade real-time migration with zero RPO and minimal downtime that can fit into your next maintenance window. Hystax Acura gives you flexibility in realtime replication of infrastructure to a new environment, testing migrated workloads, sync all deltas between two sites and switch to a new one when you are ready. Final synchronisation takes minutes so the process can be completed within a planned downtime and you have full control on the process.
On-premise and cloud backup and disaster recovery
Hystax Acura can be installed in your datacenter to meet regulations and give full control on backup infrastructure. To give significant TCO cost reduction and reduce risks of disaster effecting BCDR infrastructure Hystax Acura can be installed in a public cloud / datacenter so you can use a remote DR site and switch to it at any time.
Instant business application recovery
Best-in-class RPO/RTO, no disk preparations or copying data, Hystax Acura boots devices directly from Snapshot storage. VMware, Hyper-V, KVM or Virtuozzo are used as DR site platform.
Powerful failback to production helps return your infrastructure back without data loss and in a planned downtime window of minutes.
Regular automatic Disaster Recovery scenarios testing
Create Disaster Recovery plan once and Hystax Acura will automatically run cloud sites from it according to a schedule. You get reports on tests and always know what to expect in case of IT failure.
Powerful roles and user management to meet corporate regulations
Create custom user roles and divide access to Disaster Recovery resources – reduce risk of human error in Disaster Recovery infrastructure. Audit all actions and monitor activity.
RESTful API to manage the solution and build automation & self-healing scenarios
Build your own Disaster Recovery, Migration & self-healing scenarios using powerful Hystax Acura REST API. Integrate solution with your monitoring and alerting systems to address all issues with IT infrastructure.
Diversity of supported platforms
Replication and instant recovery of VMware, Hyper-V, OpenStack, KVM, Virtuozzo infrastructures and bare metal machines. You can replicate hybrid workloads and recover in one place. Or, consolidate infrastructure under one cloud platform by executing a migration scenario. VMware, Hyper-V, OPenStack, KVM, Virtuozzo platforms are supported on a Disaster Recovery site.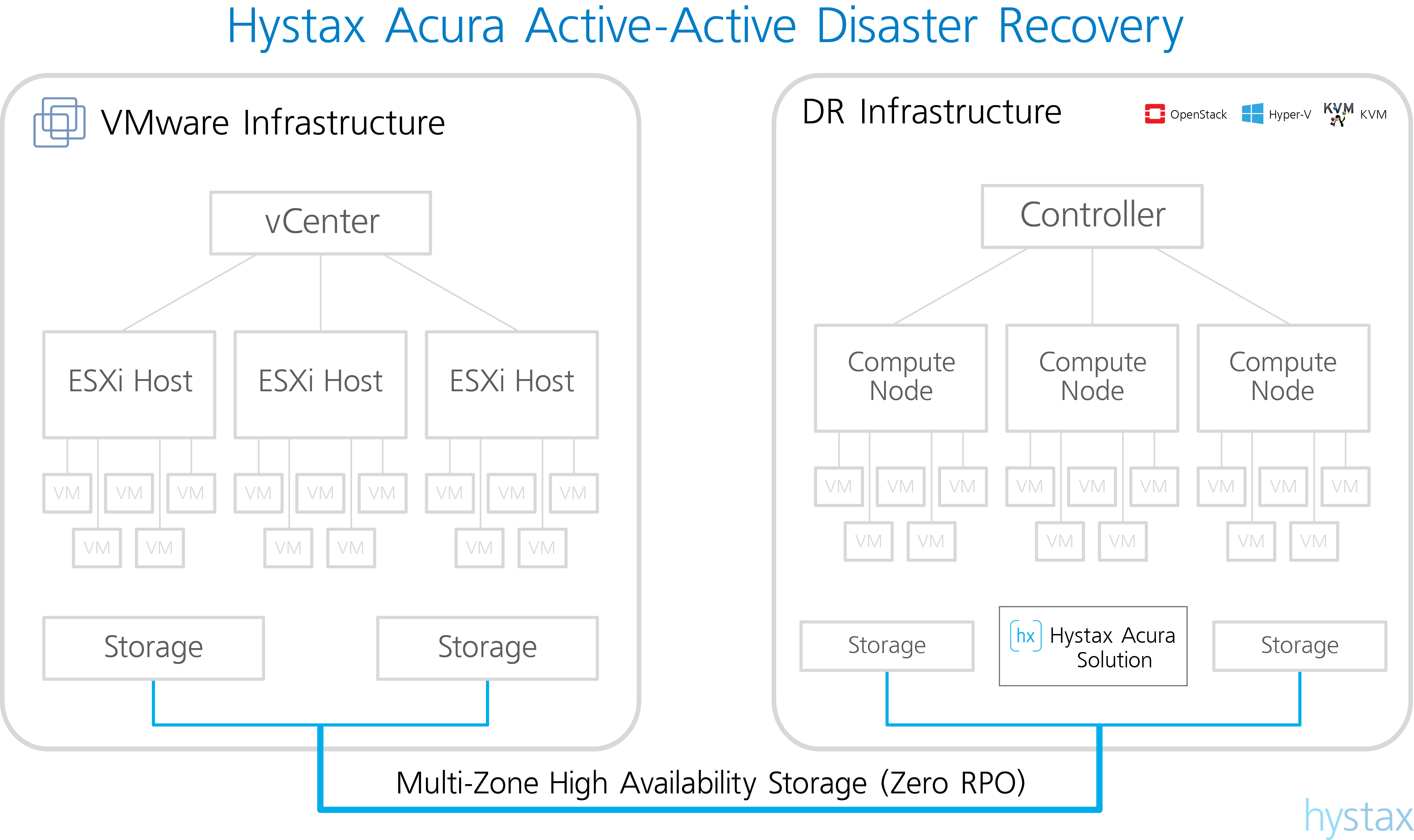 Active-Active Disaster Recovery
Hystax Acura pioneered cross-hypervisor Active-Active Disaster Recovery technology. No vendor lock-in on VMware on a Disaster Recovery site to support zero-RPO and being able to failover infrastructure in minutes.
Enterprise business for whom zero RPO is a strong requirement can save on Disaster Recovery and do not sacrifice quality.
Storage between sites is replicated via Multi-Zone storage solutions (NetApp MetroCluster, Dell EMC vPlex etc.) or Ceph / GlusterFS, it is strongly recommended to have latency of less than 10 ms between two sites.
Infrastructure and business application is restored with near-zero RTO with data at the state you had on a production site at the time disaster. You have full control of Disaster Recovery Plans and failover process. Hystax Acura boots application on Hyper-V, OpenStack or KVM and can easily return it back to production when you are ready.
Hystax Acura Data Flow
Hystax Acura agent calculates deltas between two consistent snapshots and sends them to Snapshot storage. Instant replication can be done just after a backup is completed, no additional preparations required.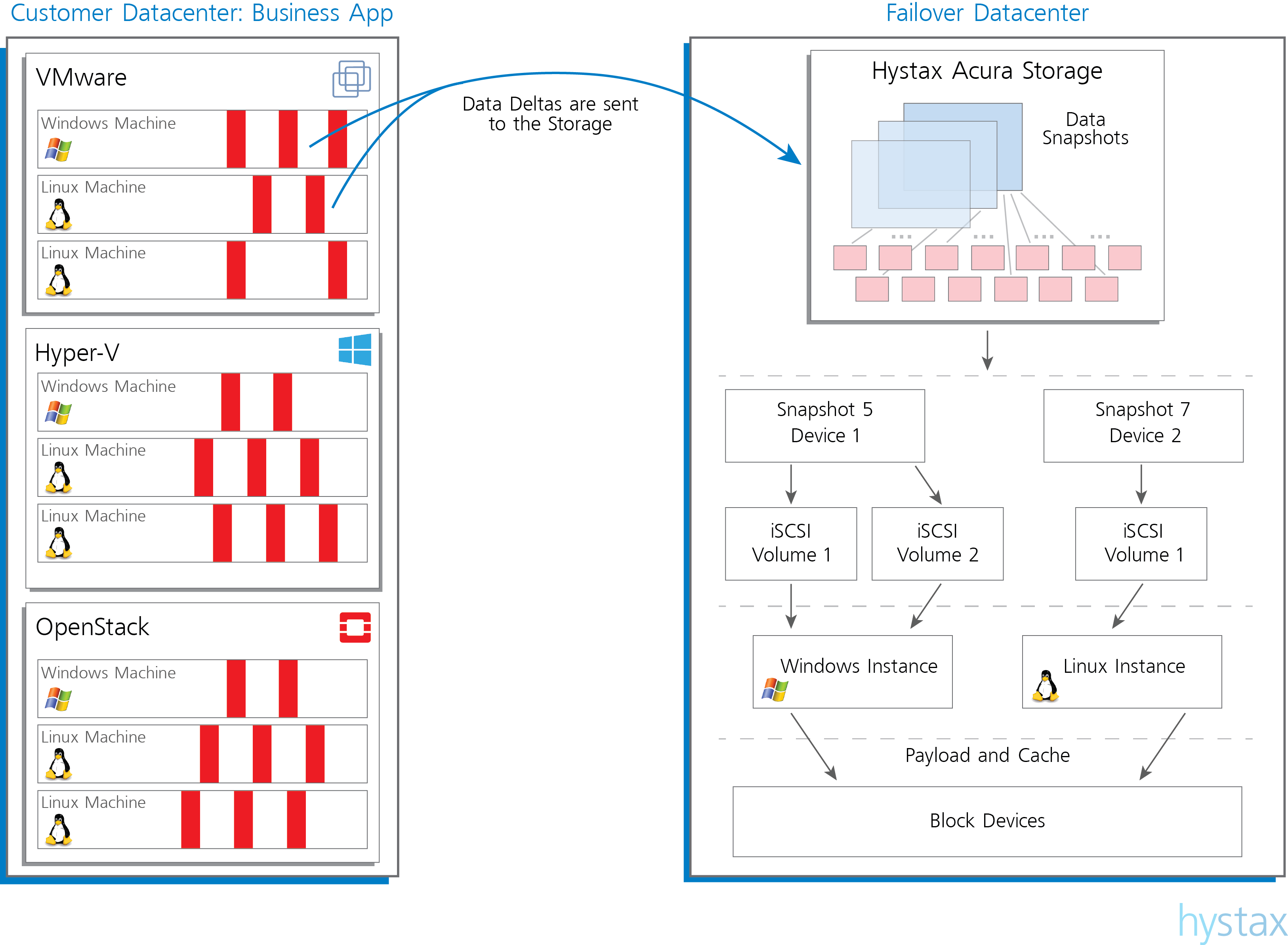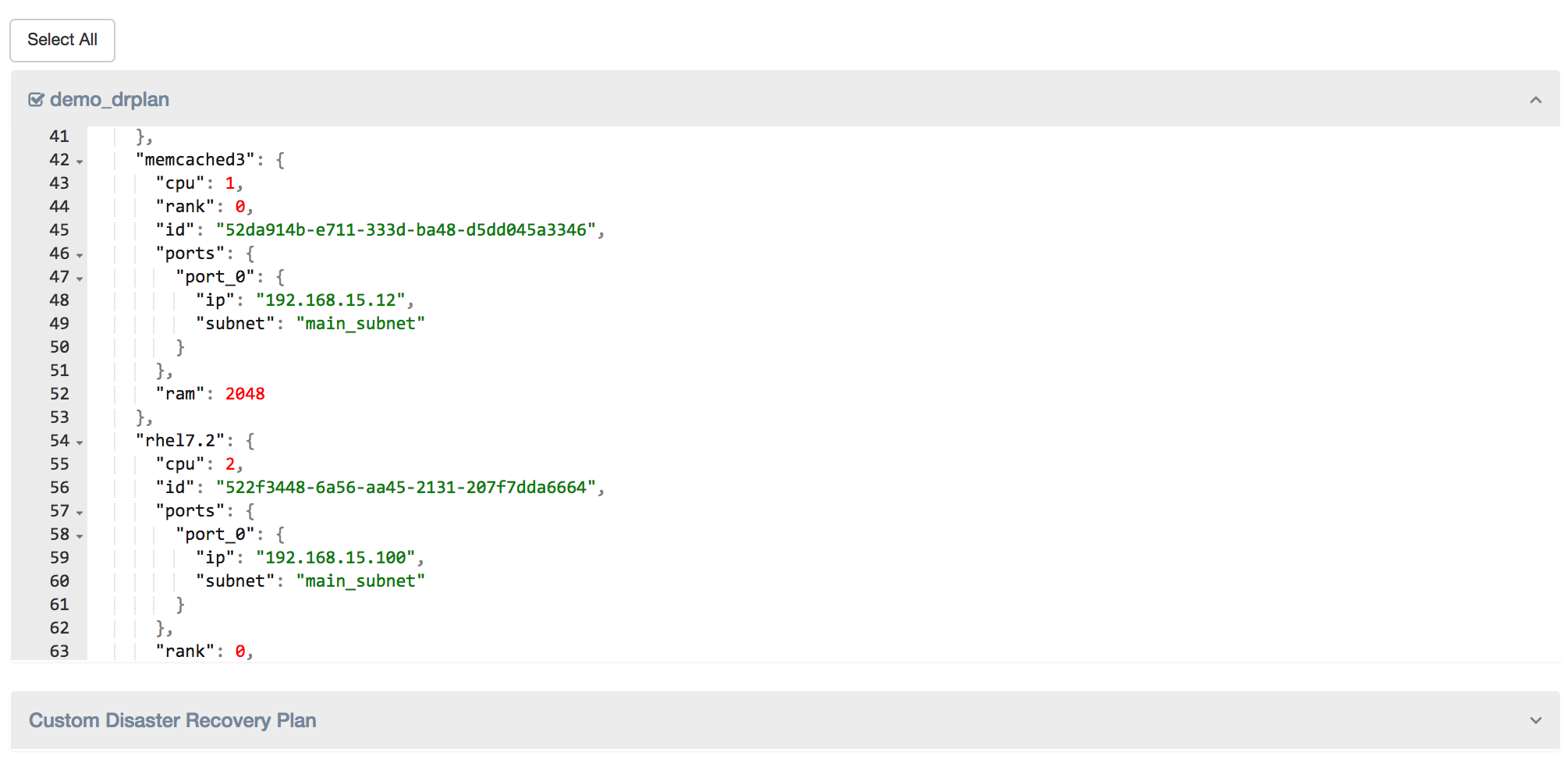 Flexible Disaster Recovery Plans
Hystax Acura provides you with powerful and flexible DR plans which contain all necessary information to recreate your original production workloads. DR plans are generated automatically based on replicated infrastructure, you just need to revise it. Hystax Acura supports cloud orchestration and recreate infrastructure in a pre-defined order.
Regular automatic DR plan testing is available. Hystax Acura will regularly automatically create a cloud site from your DR site and run a bunch of test scripts. Testing reports are available.
Deduplication and WAN Optimization
Hystax Acura provides two-step deduplication and WAN optimization that reduces network and storage utilisation up to 70%.
Disaster Recovery and Self-healing Automation
Hystax Acura is covered with RESTful API, you can build own DR and self-healing scenarios upon the solution.
Instant Recovery and Failback to Production
Hystax Acura provides instant recovery from any restore point with a few clicks. You can easily restore all changes from DR site back to production workloads within a regular maintenance period.

Have questions?