Automated AWS Disaster Recovery
Provide business continuity and IT resilience with a fully automated AWS disaster recovery solution
Disaster Recovery to AWS Use Cases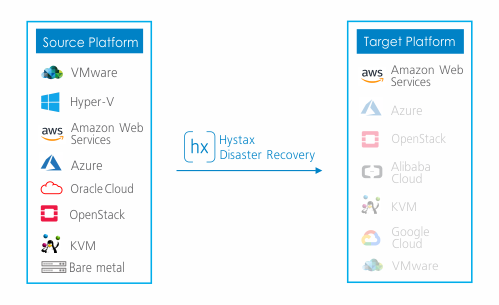 Hystax Disaster Recovery to AWS is the only any-to-any migration and DR software that supports all modern source platforms:
AWS
Google Cloud Platform
IBM Cloud
Oracle Cloud
VMware

KVM
OpenStack
Alibaba Cloud
Bare Metal
Supported Applications


Hystax Backup and Disaster Recovery is available on AWS Marketplace. Subscribe and deploy in minutes
Significant economy on backup
and disaster recovery
Regular automatic disaster recovery
scenarios testing
Powerful customer portal with
sophisticated user and
rights management
Disaster Recovery of On-Premise Infrastructure to AWS
To give significant TCO reduction and reduce risks of a disaster affecting production infrastructure Hystax Acura can be configured and replicate to a failover AWS site and switch to it at any time. Read more>
Hystax can replicate your datacenter and business applications to meet regulations and give full control on failover and backup infrastructure. The solution gives a seamless way to replicate workloads both in the cloud and on premises. Hystax Acura supports cross-hypervisor Disaster Recovery with minimal recovery point objective (RPO) and recovery time objective (RTO) values. Hystax Disaster Recovery product provides businesses with a quick failover of critical workloads on Amazon Web Services, rapid failback to a primary site and DR orchestration capabilities.
Cloud-native API is used to create basic routines like volumes, snapshots, subnets, and virtual machines
Flexible and Easy to Manage AWS Cloud Backup
Simple backup solution from the physical or virtual infrastructure into AWS platform. Continuous data protection and ability to restore data allows Hystax to provide enterprise-grade business continuity.  Read more>
Cost-efficient backup software reduces data recovery time and helps companies to keep data safe without building complex additional infrastructure, that enables reduce of backup costs. Hystax Acura allows to setup fully-automated backup to AWS, to provide continuous data protection with help of AWS S3 service. Hystax Acura backup solution enables meeting of RTO/RPO objectives. Backup solution supports native cloud API to replicate and store data. All the snapshots are stored in a storage-agnostic format. Hystax Acura supports cloud backup scenarios with hot and cold storage and flexible retention policies. Data is stored in a resilient and optimized way with deduplication ratio of up to 70%. Restores with constant snapshot access time are available.
Get more details on product features and capabilities
AWS Disaster Recovery with minimal RTO and RPO
Hystax Disaster Recovery to AWS makes business data bulletproof, provides IT resilience and business continuity. Read more>
Fully-automated DR product allows to replicate workloads from virtual or physical environments to AWS platform. Best-in-class RPO/RTO, no disk preparations or copying data, Hystax Disaster Recovery to AWS boots devices directly from cloud-native snapshots and enables companies to minimize downtime. Powerful failback to production helps to return workloads back without data loss and in a planned maintenance window of minutes. Build your own Disaster Recovery, Migration & self-healing scenarios using powerful software with RESTful API which allows you to build own Disaster Recovery scenarios with sophisticated user and rights management. Regular automatic DR scenarios testing enables creating recovery plan once and Hystax Disaster Recovery to AWS will automatically run failovers by schedule.
AWS Disaster Recovery Plan in 4 Steps
1. Deploy replication
agent

Choose your level of cloud integration
2. Configure replication and retention settings
Start background replication of business applications, machines data, and metadata
3. Create a DR Plan and configure auto-testing
DR plans are generated automatically based on replicated infrastructure
4. Run Recover flow when you have a disaster
Easily restore all changes from DR site back to production workloads in minutes
"Hystax assisted us in all stages of migration and did above and beyond what was initially planned, by customizing replication process to mitigate obstacles. We were extremely happy to work with Hystax!"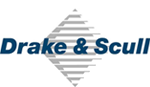 Get the industry-leading Disaster Recovery to AWS solution