Migrate to AWS
Cloud migration to AWS with fully automated solution
from any source platform
Cloud Migration to AWS Use Cases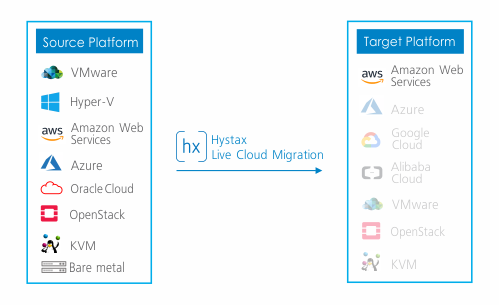 Hystax Live Cloud Migration to AWS is the only any-to-any migration software that supports all modern source platforms:
Azure
Google Cloud Platform
IBM Cloud
Oracle Cloud
VMware

KVM
OpenStack
Alibaba Cloud
Bare Metal


Hystax Live Cloud Migration is available on AWS Marketplace. Subscribe and deploy in minutes
Start live background
replication of production
workloads
Run test migrations before
making a decision to
switch production
Spin up migrated
workloads on AWS
in a few minutes
Straightforward Cloud Migration from VMware to AWS
Simple way to take VMware deployment to AWS without experiencing downtime or complexities arising from large-scale migration of workloads. Read more>
Standard migration tools can't solve all the challenges appearing in such processes, manual deployment is possible – whether on-premises or in AWS – however doing migration without an automated solution is not sustainable. Migrate VMware VMs to AWS by one click using Hystax Acura. Supported Platforms/OS versions are ESXi 5.5+
Hystax Acura is a unique fully automated cloud migration
to AWS solution from any source platform
Cloud Migration from Microsoft Azure or Google Cloud Platform to AWS
Avoid vendor lock-in and make IT infrastructure more flexible by using various clouds for different services. Read more>
There are numerous limitations typically encountered during migration to Amazon Web Services. Hystax Acura Live Migration to AWS consistently replicates production workloads and sends deltas to AWS in a deduplicated and WAN-optimized manner. Once full replicas are on AWS side, business applications can be spun up with dependencies and orchestration for test migration. Hystax Acura goes beyond replication of business applications and data – it replicates machine metadata to automate process of migration and preserve network and instance type settings.
Get more details on product features and capabilities
Migrate from Private Cloud to AWS
Move workloads from private cloud to Amazon Web Services or build hybrid cloud without restriction. The opex-based cloud allows the implementation of more cost-effective IT infrastructure. Read more>
Companies leverage AWS to achieve scalability and operating efficiency, which are significant benefits over private cloud deployments. The most prevalent benefit of AWS is cost savings. Experts agree that the cost of a public cloud is typically far lower than a traditional data center and private cloud because there is no capital expense. There is also greater flexibility for users because organizations pay only for the computing resources that they actually use. Hystax Acura is an intelligent, cost-effective and fully-automated solution helping clients to reduce IT costs and avoid cloud vendor lock-in.
AWS Cloud Migration Strategy in 6 steps
1. Prepare for migration
Choose your level of cloud integration
2. Start replication
Start background replication of business applications, machines data and metadata without any performance impact
3. Store data
All the data is stored in a cloud native format using volumes and snapshots of a target cloud
4. Orchestration
Automated orchestration launches fully operational business applications on target AWS
5. Test migrations
Run unlimited number of test in an isolated VPC, run a set of functional and performance tests without performance impact
6. Final cutover
Final migration or cutover within a small and predictable maintenance window
"Hystax assisted us on all stages of migration and did beyond of what was initially planned by customizing replication process to mitigate obstacles. We were extremely happy to work with Hystax!"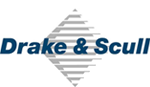 Get the industry-leading AWS cloud migration solution