Azure Disaster Recovery Solution
Comprehensive DR solution with replication and protection options for secure, scalable and cost-effective IT environment
Disaster Recovery to Azure Use Cases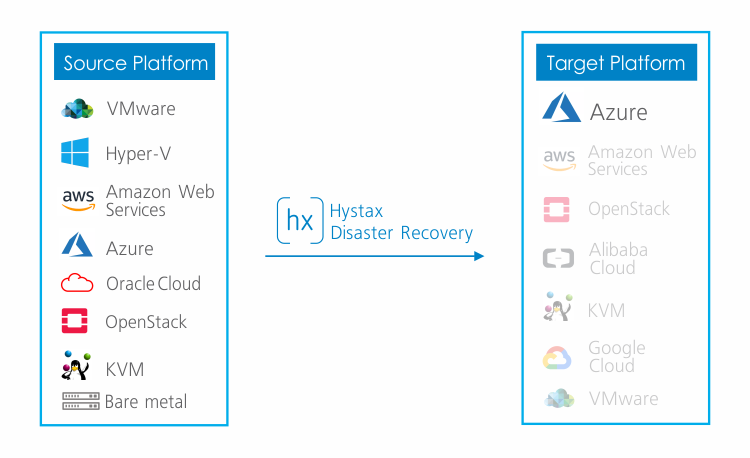 Hystax Disaster Recovery to Azure is the only any-to-any Disaster Recovery and backup software that supports all modern source platforms:
AWS
Google Cloud Platform
IBM Cloud
Oracle Cloud
VMware

KVM
OpenStack
Alibaba Cloud
Bare Metal
Supported Applications


Find Hystax Disaster Recovery on Microsoft Azure Marketplace and deploy in a couple of clicks
Significant economy on Backup
and Disaster Recovery
Regular automatic Disaster Recovery
scenarios testing
Powerful customer portal with
sophisticated user and
rights management
On-premise Disaster Recovery to Azure for business sustainability
Hystax ensures the best possible RPO and RTO in the industry to guarantee your business process continuity. Enable significant cost savings by utilizing Microsoft Azure as a disaster recovery site. Read more>
Hystax provides continuous background replication of all production applications and data, protecting every small change in a real-time manner to ensure your RPO is measured in a few seconds whether into Microsoft Azure or between Microsoft Azure regions. Benefit from significant cost reduction by utilizing Microsoft Azure as a disaster recovery site with benefit of utilizing compute resources only in case of failover. Get rid of vendor lock-in and develop IT with platform-agnostic replication, recovery and application mobility.
Cloud-native Azure DR solution with Best-In-Class RPO and RTO with consistent replication and storage-agnostic snapshots
Disaster Recovery between Azure Availability Zones
Hystax offers a unique opportunity for businesses to get a Business Continuity & Disaster Recovery between Availability Zones in Microsoft Azure region. With Azure Availability Zones companies are empowered to choose which Zone within that Azure Region to use for effective disaster recovery strategy implementation. Read more>
Availability Zones are unique physical locations within an Azure Region with independent power, cooling, and networking. Hystax Acura enables companies to replicate and failover their workloads in a specific availability zone that facilitates to increase resiliency against individual zone failures within the Region. By using Hystax Acura to failover between availability zones in Microsoft Azure cloud Hystax improves the overall availability of workloads and ensures resiliency on Azure. Hystax helps companies to take care of IT resilience and business continuity and to implement an efficient disaster recovery strategy with best-in-class RTO and RPO values of seconds and minutes.
Get more details on product features and capabilities
Continuous Data Protection with Azure
Hystax pioneered cross-hypervisor Disaster Recovery and stores customer data and snapshots in a cloud-native format, ready to use in case of failover. Read more>
No cloud modifications are required to support Disaster Recovery scenarios, only cloud-native API is used to create basic routines like volumes, snapshots, subnets, and virtual machines. Hystax Acura uses Azure functionality to create volumes and snapshots.
Disaster Recovery to Azure in 4 steps
1. Deploy replication agent
Choose your level of cloud integration
2. Configure replication and retention settings
Start background replication of business applications, machines data, and metadata
3. Create a DR Plan and configure auto-testing
DR plans are generated automatically based on replicated infrastructure
4. Run Recover flow when you have a disaster
Easily restore all changes from DR site back to production workloads in minutes
"Silver Lining Systems is very pleased to partner with Hystax, since our companies share the common goal of providing cost-effective solutions to our customers through automation. By leveraging Hystax technologies, we've been able to eliminate most of the manual tasks to de-risk and accelerate customer migrations to our cloud infrastructure (months to weeks) while achieving enhanced customer satisfaction, a reduction in migration costs and earlier revenue capture."

Get the industry-leading DR to Azure solution