Cloud-native Migration Solution
to Alibaba Cloud
Migrate to Alibaba Storage in fully-automated manner from any cloud or bare metal
Alibaba Migration Use Cases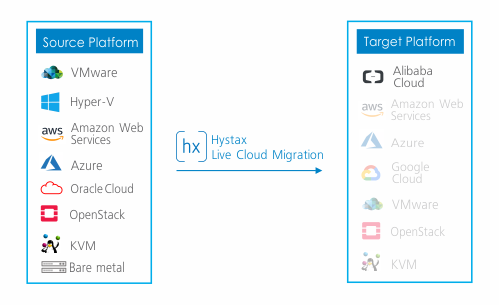 Hystax Live Cloud Migration to Alibaba Cloud is the only any-to-any migration software that supports all modern source platforms:
AWS
Google Cloud Platform
IBM Cloud
Oracle Cloud
Azure

KVM
OpenStack
VMware
Bare Metal
Supported Applications


Start live background
replication of production
workloads
Run test migrations before
making a decision to
switch production
Spin up migrated
workloads on Alibaba
in a few minutes
Migration from AWS to Alibaba in effortless way
Hystax represents the only fully-automated solution to migrate to Alibaba Cloud from AWS or any other platform. Read more>
Hystax Live Migration to Alibaba Cloud provides an ability to manage replication settings and consistently replicates all applications to Alibaba Cloud using unique technologies. Consistent background replication allows to avoid any data loss. As soon as full replicas are on Alibaba Cloud side, business applications can be spun up with dependencies and orchestration. Hystax Live Migration to Alibaba Cloud replicates not only production workloads and machines data but also metadata to automate process of migration and preserve network and flavor settings.
Migrate even the most complex workloads to fast-growing and Asian most
advanced Cloud Provider without downtime or data loss
Migrate from Private clouds to Alibaba in a couple of clicks
Avoid vendor lock-in by moving business applications and all types of workloads to a fast-growing Alibaba Cloud in a fully-automated way and make IT infrastructure more flexible and hybrid. Read more>
There are numerous limitations that you may encounter while migrating to Alibaba Cloud by using external migration tools and it makes cloud migration a messy and unstandardized process. Hystax Acura Live Migration to Alibaba consistently replicates production workloads and sends deltas to Alibaba in a deduplicated and WAN-optimized manner. The solution is application and Operating System agnostic, agentless, fast, secure and meets cloud migration needs of any business and industry.
Get more details on product features and capabilities
On-premise to Alibaba migration in an automated way
Migrate workloads to Alibaba Cloud without rebuilding servers as Hystax provides cloud migration product to move on-premises to cloud without reinstalling applications on cloud instance by automation approach. Read more>
The solution provides enterprise-grade consistent replication from any source platform, automated instant P2V / V2V transformation and orchestrated launch of business applications on Alibaba Cloud. By P2V automation, companies could easily consolidate legacy servers on hypervisors without manual reinstallation processes. It is a smart, efficient, cost-effective and fully-automated response to the growing cloud adoption, which helps companies to switch from CAPEX to OPEX cost models and get rid of TCO and cloud vendor lock-in.
Live cloud migration to Alibaba in 6 steps
1. Prepare for migration
Choose your level of cloud integration
2. Start replication
Start background replication of business applications, machines data and metadata without any performance impact
3. Store data
All the data is stored in a cloud native format using volumes and snapshots of a target cloud
4. Orchestration
Automated orchestration launches fully operational business applications on target Alibaba
5. Test migrations
Run unlimited number of test in an isolated VPC, run a set of functional and performance tests without performance impact
6. Final cutover
Final migration or cutover within a small and predictable maintenance window
"Hystax assisted us in all stages of migration and did above and beyond what was initially planned, by customizing replication process to mitigate obstacles. We were extremely happy to work with Hystax!"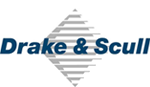 Get the only cloud-native migration solution to Alibaba