Migrating from On-Premise to Cloud
Migrating on-premise infrastructure to any cloud platform
Migrating from On-Premise Use Cases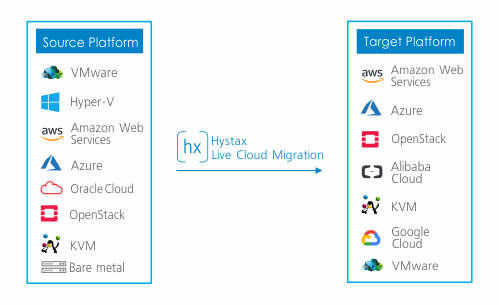 Hystax Live Cloud Migration is the only any-to-any migration software that supports all modern source and target platforms:
AWS
Google Cloud Platform
Azure
Oracle Cloud
VMware

IBM Cloud
KVM
OpenStack
Alibaba Cloud
Bare Metal
Supported Applications


Start live background
replication of production
workloads
Run test migrations before
making a decision to
switch production
Spin up migrated
workloads on target cloud
in a few minutes
Migrate from Bare Metal to AWS
Business intelligence, cost efficiency, scalability, security and other benefits of cloud-based infrastructure could facilitate companies to move their on-premise data warehouse to the cloud. Hystax Acura enables your company to migrate to highly performance AWS platform, to get rid of limitations of legacy infrastructure. Read more>
Hystax Acura provides businesses with a simple, efficient, fully-automated migration to AWS, helps companies to reduce TCO by cost-effective live cloud migration solution. Hystax Acura provides background consistent replication of bare metal machines, ability to run unlimited number of test migrations and orchestrated launch of business applications on AWS platform, gives independence, control and security during the migration process.
Hystax Acura is a unique fully-automated cloud migration solution from any source platform
On-premise migration to any target platform
The advantages of migration from on-prem to the cloud are obvious. Cloud-based company infrastructure put in the shade on-premise solutions in terms of cost reduction, speed, reliability, scalability and security. Read more>
Moving your data and applications to the cloud with Hystax Acura you can migrate to any target platform – KVM, AWS, OpenStack, Microsoft Azure, Google Cloud Platform, Alibaba Cloud, VMware. Digital transformation strategy may include migrating of all company's workloads to the cloud, or you can choose a hybrid cloud migration approach when migration process involves some applications, while others remain on-premise.
Get more details on product features and capabilities
Migrate from Physical Machines to OpenStack
Hystax Acura gives an opportunity to empower new business capabilities by moving your workloads and applications from on-premise infrastructure to OpenStack with highly professional assistance. Read more>
The principal reason for moving from legacy on-premise data warehouse to OpenStack is cost efficiency. At the same time deployment in cloud environment affords you flexibility and scalability. Hystax provide business with fully-automated, efficient, easy to use live cloud migration solution with full transparency of migration process. Hystax Acura gives an opportunity to move workloads to OpenStack architecture with small maintenance windows and without data loss.
Live cloud migration in 6 steps
1. Prepare for migration
Choose your level of cloud integration
2. Start replication
Start background replication of business applications, machines data and metadata without any performance impact
3. Store data
All the data is stored in a cloud native format using volumes and snapshots of a target cloud
4. Orchestration
Automated orchestration launches fully operational business applications on target cloud
5. Test migrations
Run unlimited number of test in an isolated VPC, run a set of functional and performance tests without performance impact
6. Final cutover
Final migration or cutover within a small and predictable maintenance window
"Silver Lining Systems is very pleased to partner with Hystax, since our companies share the common goal of providing cost-effective solutions to our customers through automation. By leveraging Hystax technologies, we've been able to eliminate most of the manual tasks to de-risk and accelerate customer migrations to our cloud infrastructure (months to weeks) while achieving enhanced customer satisfaction, a reduction in migration costs and earlier revenue capture."

Get the cutting-edge migration solution