Disaster Recovery to OpenStack
Provide business continuity and IT resilience with fully-automated OpenStack DR solution
Disaster Recovery to OpenStack Use Cases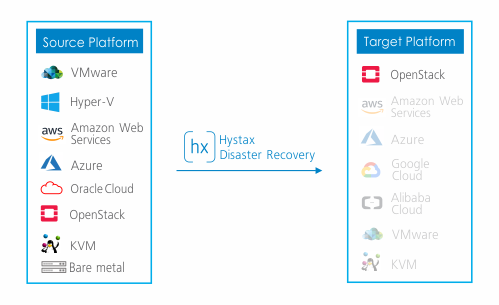 Hystax Disaster Recovery to OpenStack is the only any-to-any DR and backup software that supports all modern source platforms:
AWS
Google Cloud Platform
IBM Cloud
Oracle Cloud
VMware

KVM
OpenStack
Alibaba Cloud
Bare Metal


Significant economy on Backup
and Disaster Recovery
Regular automatic Disaster Recovery
scenarios testing
Powerful customer portal with
sophisticated user and
rights management
Disaster Recovery to OpenStack to protect critical data
Try native Disaster Recovery to OpenStack solution with approach that fills gaps left by legacy DR tools. Read more>
Hystax Disaster Recovery to OpenStack operates in the background without impacting production. Highly automated VMs p2v / v2v conversion and orchestration enable RTO of minutes. Hystax Acura supports external and internal replication of business applications. External replication saves time to deploy agents and works ideally for OpenStack workloads. Powerful failback to production helps return your infrastructure back without data loss and in a planned downtime window of minutes.
Hystax consistently replicates business applications on a protected platform, calculates deltas and sends them to a failover site. Data is stored in a cloud-native format
OpenStack continuous data protection and backup solution
In case of data compromise or infrastructure failure, failover immediately and seamlessly runs on a failover OpenStack. Read more>
The software replicates production workloads and converts data and infrastructure architectures, including VMware vSphere and HyperV, to run on OpenStack. The solution supports cloud backup scenarios with hot and cold storage and flexible retention policies. Huge variety of hardware or storage vendors and solutions can be used: NetApp, DellEmc, Cisco, Nexenta, Ceph etc. Data is stored in a resilient and optimized way with deduplication ratio of up to 70%. Restores with constant snapshot access time are available. Get a robust Backup and Disaster Recovery solution and save on Disaster Recovery infrastructure and licenses.
Get more details on product features and capabilities
Continuous Data Protection to OpenStack
Hystax pioneered cross-hypervisor Disaster Recovery and stores customer data and snapshots in a cloud-native format, ready to use in case of failover. Read more>
No cloud modifications are required to support Disaster Recovery scenarios, only cloud-native API is used to create basic routines like volumes, snapshots, subnets, and virtual machines. Hystax Acura uses OpenStack functionality to create volumes and snapshots.
Disaster Recovery to OpenStack in 4 steps
1. Deploy replication agent
Choose your level of cloud integration
2. Configure replication and retention settings
Start background replication of business applications, machines data, and metadata
3. Create a DR Plan and configure auto-testing
DR plans are generated automatically based on replicated infrastructure
4. Run Recover flow when you have a disaster
Easily restore all changes from DR site back to production workloads in minutes
"Hystax assisted us in all stages of migration and did above and beyond what was initially planned, by customizing replication process to mitigate obstacles. We were extremely happy to work with Hystax!"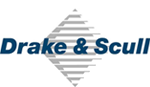 Get the industry-leading Disaster Recovery to OpenStack solution