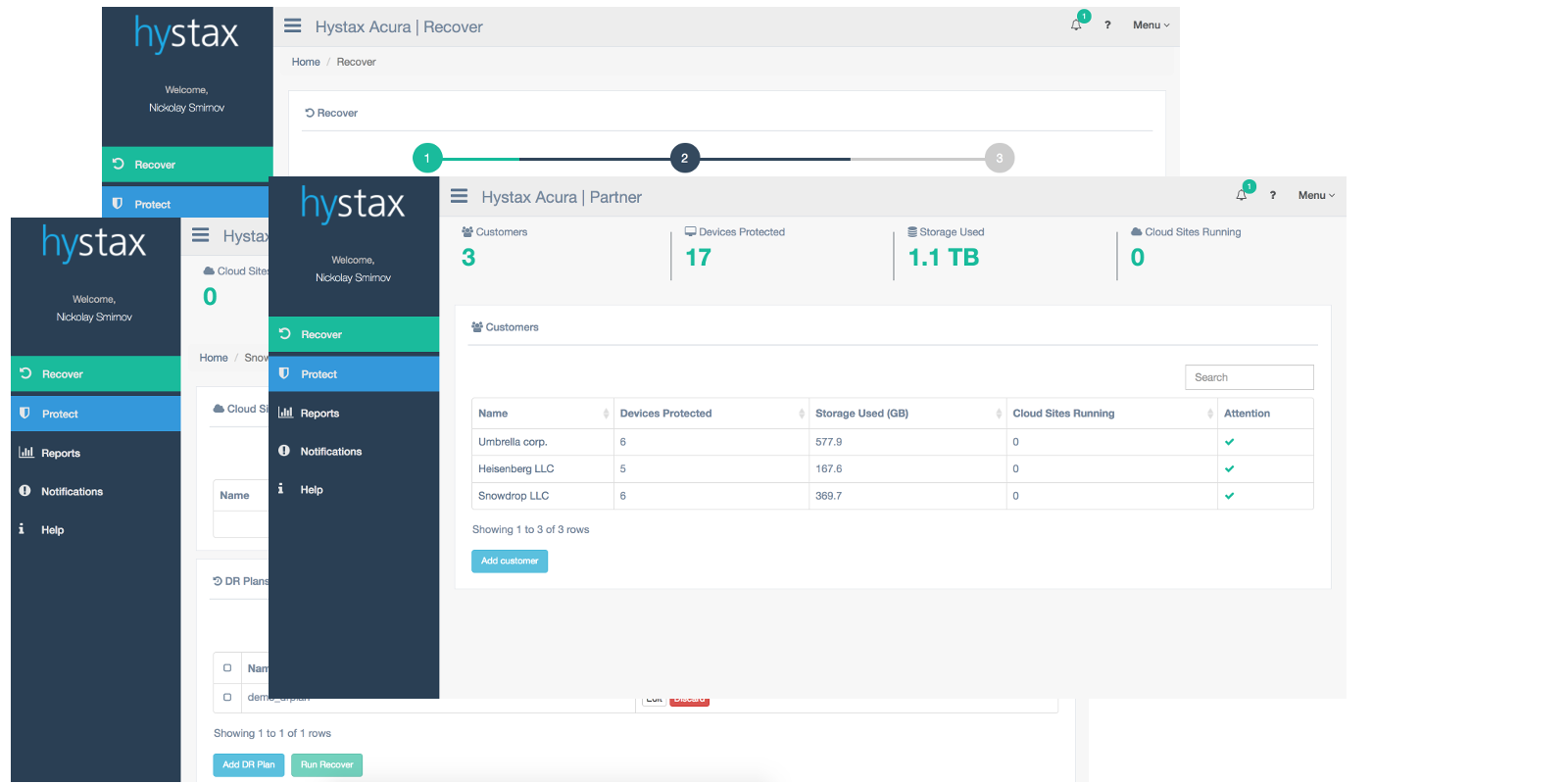 Hystax Acura – a powerful Backup, Disaster Recovery and Migration platform for private cloud and business applications. Enterprise-grade protection and data management in a few clicks.
Double Protection for Your Cloud
Hystax Acura provides you with Active-Active and Active-Passive Disaster Recovery solutions. Turn on both to have Best-in-Class protection or select one which fits your requirements.
Backup and Disaster Recovery
Hystax Acura provides replication of VMware vSphere, Hyper-V, OpenStack and Virtuozzo workloads and instant recovery in a cloud. Minimal RPO/RTO, regular automated Disaster Recovery plans testing, powerful failback to production within minutes.
Enterprise-grade Realtime Migration
Flexible migration scenarios, migrate production workloads to a target site, test infrastructure before make it primary. Realtime delta sync between sites. Switch to a target site with one maintenance window. Supported scenarios of production workload migration: VMware to Hyper-V, VMware to OpenStack, Bare metal to VMware, Hyper-V, OpenStack.

Windows Changed Block Tracker
Windows Changed Block Tracker works with two Microsoft Shadow Copy snapshots and detects all changes applied between them.
Hystax Windows Changed Block Tracker provides you with:
Instant Delta tracking for changes of any size and any type of server: file server or a Server with Exchange or SQL Server

Provides Deltas relative to logical disks for block-based backups and file offsets for file-based backups

Hystax Windows Changed Block Tracker provides you with:

Supports Windows 7, 8, 10, Servers: 2008, 2008R2, 2012R2

Can be easily integrated into any solution on any platform
Hystax Consulting Services
We are experts in building Cloud Solutions using Private/Public/Hybrid Clouds – from scratch towards the Production release, including:
Full stack consulting services and PoC implementation

Solution design and architecture

Implementation and deployment of developed solution

Best in Class Quality Assurance and DevOps services
Cloud solutions development and computing

Implementation / Integration

Ready to talk?