Agentless and Secure Migration to VMware
Fundamentally new approach to transform IT infrastructure and to migrate to VMware from any source platform
Migration to VMware Use Cases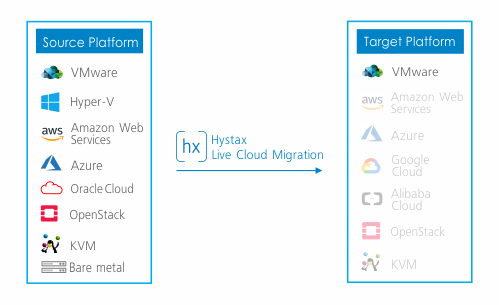 Hystax Live Cloud Migration to VMware is the only any-to-any migration software that supports all modern source platforms:
AWS
Google Cloud Platform
IBM Cloud
Oracle Cloud
Azure

KVM
OpenStack
Alibaba Cloud
Bare Metal
Supported Applications


Start live background
replication of production
workloads
Run test migrations before
making a decision to
switch production
Spin up migrated
workloads on VMware
in a few minutes
Migrate physical server to VMware simply
P2V migration in a fully-automated way allows to get rid of third-party tools which make the migration flow a routine process.  Use easy-to-deploy solution, requiring a minimum of setup and configuration. Read more>
Hystax Acura provides an opportunity to avoid manual creating and configuring VMs by cloning and importing physical or virtual systems to VMware ESX/ESXi. The fully-automated migration solution replicates not only business application and machines data but also machine metadata to automate process of migration and preserve network and flavor settings.
Truly a unique solution to migrate virtual machines, applications and databases to VMware from any source platform
Migrate from Hyper-V to VMware in a secure way
Hystax Acura allows you to manage three primary challenges with Hyper-V Cluster Migration: seamless migration, predictable little to zero downtime and data security. Read more>
The solution was created and optimized for use in virtual IT environments and it fully supports both Hyper-V (in all its editions and versions) and VMware in one common interface. Hystax Acura uses background data replication between two sites, that allows near zero interruption to the production workloads running on the VM. The migrated site can be spun up in an isolated environment to test and configure it without impacting or disrupting production workloads. Final synchronization of all deltas between two sites happens in a matter of seconds and you can switch to VMware within a small maintenance window.
Learn more about customers values and advantages of Hystax Live Cloud Migration to VMware
Hot migration to VMware
Whether you are migrating to or within VMware environments, Hystax gives the flexibility and security you need to succeed during the migration of physical, virtual or cloud-based workloads. Read more>
Hystax Acura Live Migration to VMware allows to move running VMs from bare metal or public and private cloud to VMware with near zero downtime. The virtual machine retains its machine metadata to automate the process of migration, preserve network, flavor settings, network identity and connections, ensuring a seamless migration process. It is essential for most enterprise while moving to VMware, and cloud service providers see live migration as a key requirement to ease their enterprise customers' shift to their cloud services.
Live cloud migration to VMware in 6 steps
1. Prepare for migration
Choose your level of cloud integration
2. Start replication
Start background replication of business applications, machines data and metadata without any performance impact
3. Store data
All the data is stored in a cloud native format using volumes and snapshots of a target cloud
4. Orchestration
Automated orchestration launches fully operational business applications on target VMware
5. Test migrations
Run unlimited number of test in an isolated VPC, run a set of functional and performance tests without performance impact
6. Final cutover
Final migration or cutover within a small and predictable maintenance window
"Silver Lining Systems is very pleased to partner with Hystax, since our companies share the common goal of providing cost-effective solutions to our customers through automation. By leveraging Hystax technologies, we've been able to eliminate most of the manual tasks to de-risk and accelerate customer migrations to our cloud infrastructure (months to weeks) while achieving enhanced customer satisfaction, a reduction in migration costs and earlier revenue capture."

Get the cutting-edge migration to VMware solution