Automated Azure Cloud Migration
Innovative approach to modernize IT infrastructure and to migrate workloads to Microsoft Azure from any source platform
Cloud Migration to Azure Use Cases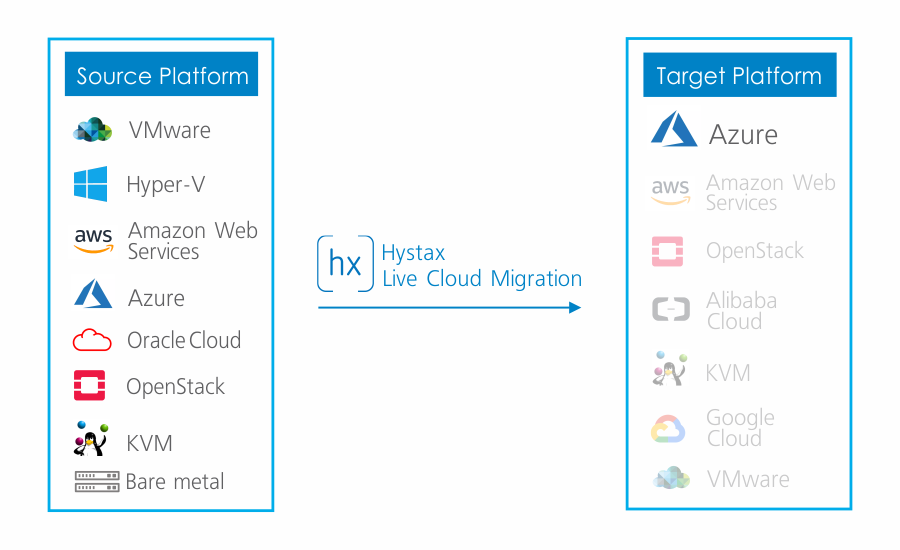 Hystax Live Cloud Migration to Azure is the only any-to-any migration software that supports all modern source platforms:
AWS
Google Cloud Platform
IBM Cloud
Oracle Cloud
VMware

KVM
OpenStack
Alibaba Cloud
Bare Metal
Supported Applications


Find Hystax Live Cloud Migration on Microsoft Azure Marketplace and deploy in a couple of clicks
Start live background
replication of production
workloads
Run test migrations before
making a decision to
switch production
Spin up migrated
workloads on Azure
in a few minutes
Lift-and-Shift on-premise VMware workloads to Microsoft Azure
Experience a completely new approach to cloud migration strategy with 100% automated and secure solution. Move your VMware workloads to Azure to increase scalability and flexibility. Read more>
The complexity of legacy VMware applications that involve multiple systems interdependencies and potential downtime that influence production are challenges that Hystax Acura solves in a couple of clicks and makes migration a significantly simple process. Apply cloud modernization strategy based on the reliable and sophisticated solution that helps small businesses and enterprise to transform their IT environments from VMware to Azure. On-premises Hyper-V virtual machines, bare metal and VMware VMs can be replicated in a deduplicated and WAN-optimized manner. Migration plans are generated automatically based on replicated infrastructure, you just need to revise it. Hystax Acura supports cloud orchestration and recreates infrastructure in a pre-defined order.
Learn more about all advantages of Hystax solution and it's a fundamentally new approach to cloud migration
Cloud migration from AWS and GCP to Microsoft Azure with confidence
Lift-and-shift AWS and Google Cloud Platform workloads to Microsoft Azure in a manageable way and provide a huge range of scalability and redundancy options with best-in-class cloud migration tools . Read more>
Hystax multi-cloud migration software empowers companies on cloud migration from Amazon Web Services and Google Cloud Platform to Microsoft Azure. Hystax Live Cloud Migration to Azure provides a quick and confident way for agentless and automated background replication of production workloads. Maximum uptime is enforced by a sophisticated approach to moving applications and data to Microsoft Azure platform. Final synchronization of all deltas between two sites happens in a matter of seconds. Spin up a migrated site using powerful Migration Plans and switch business applications to Azure.
Read a whitepaper to get more details on product capabilities and customer values
Cloud migration from private cloud to Microsoft Azure in minutes
Move workloads with confidence, run all applications in a test environment and ensure a successful migration to Microsoft Azure without any service disruptions. Read more>
A way to modernize IT environment and reduce cloud migration costs is to migrate workloads to Microsoft Azure with Hystax Acura Live Migration. IT infrastructure that is based on a private cloud can cause vendor lock-in, faces various challenges and becomes ineffective to business. Migrate from any private cloud in minutes without system downtime, compatibility and security issues. Hystax provides a self-service solution that meets Cloud Migration needs in a simple interface and allows to modernize and manage IT infrastructure with minimal effort.
Azure Cloud Migration in 6 steps
1. Prepare for migration
Choose your level of cloud integration
2. Start replication
Start background replication of business applications, machines data and metadata without any performance impact
3. Store data
All the data is stored in a cloud native format using volumes and snapshots of a target cloud
4. Orchestration
Automated orchestration launches fully operational business applications on target Azure
5. Test migrations
Run unlimited number of test in an isolated VPC, run a set of functional and performance tests without performance impact
6. Final cutover
Final migration or cutover within a small and predictable maintenance window
"Silver Lining Systems is very pleased to partner with Hystax, since our companies share the common goal of providing cost-effective solutions to our customers through automation. By leveraging Hystax technologies, we've been able to eliminate most of the manual tasks to de-risk and accelerate customer migrations to our cloud infrastructure (months to weeks) while achieving enhanced customer satisfaction, a reduction in migration costs and earlier revenue capture."

Get best-in-class Cloud Migration to Microsoft Azure solution