VMware Disaster Recovery Solution
Minimize downtime and reduce DR costs with fully-automated and cost-efficient VMware Disaster Recovery and Backup
Disaster Recovery to VMware Use Cases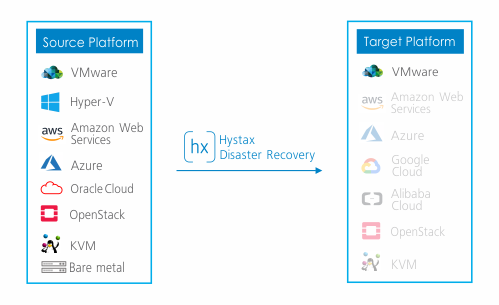 Hystax Acura is the only any-to-any Disaster Recovery and backup software that supports all modern source platforms:
AWS
Google Cloud Platform
IBM Cloud
Oracle Cloud
VMware

KVM
OpenStack
Alibaba Cloud
Bare Metal
Supported Applications


Significant economy on Backup
and Disaster Recovery
Regular automatic Disaster Recovery
scenarios testing
Powerful customer portal with
sophisticated user and
rights management
On-premise Disaster Recovery Solution to VMware
A comprehensive solution to provide Disaster Recovery and data backup from and to VMware for modern data center environments that run on VMware vSphere, ESXi, vRealize and integrate with cloud IT infrastructure. Read more>
Avoid the challenges of backing up to VMware environments with traditional Disaster Recovery tools. Disaster Recovery and migration process consists of replication of business applications and infrastructure items to a DR datacenter and launching failover from one of the restore points. Failover runs in a backup DC, wherein original IT infrastructure is restored with all the items. On-premise Disaster Recovery is available between different regions/sites or availability zones. The solution provides DR with low RPO and RTO values comparing to various current Disaster Recovery tools. Hystax Acura supports fully-automated asynchronous failback of workloads to the original location.
Recovered applications are not tied to Hystax DR Solution – there is no performance impact in case of failover or failback
VMware Backup Solution to improve availability
Seamless backup of virtual machines running in VMware environment without affecting operations and experiencing any downtime. The product supports cloud backup scenarios with hot and cold storage and flexible retention policies. Read more>
VMware users meet their RTO, RPO, and retention requirements. All VMware backup options provide application-level awareness to ensure data consistency, as well as instant recovery and global deduplication for fast recovery and maximum retention. Data is stored in a resilient and optimized way with a deduplication ratio of up to 70%. Restores with constant snapshot access time are available. Supervision of VMware backups is a complex and sophisticated process. Having multiple copies, long-term retention, moving more data offsite, and experiencing any downtime. This used to require a task-oriented approach to backup management that leaves you with no clue about the impact of an outage. Hystax manages these challenges for companies running their IT infrastructure based on VMware. Simply setup all the replication settings of VMware Disaster Recovery. Hystax automates the entire process, giving clear plan which includes infrastructure description and instructions that should be performed to recreate the business application in the backup data center in case of emergency.
Get more details on product features and capabilities
Continuous Data Protection to VMware
Hystax provides continuous data protection backups – simple, cost-efficient, volume-based server CDP backup solutions for a wide variety of environments, including backups in VMware environments with different operating systems. Read more>
By using agentless, non-disruptive consistent data replication Hystax provides 100% data availability and opportunity to recover quickly to a point in time, minutes before a cyber-threat occurs. The solution provides instant recovery from any restore point within a few clicks. This approach reduces the backup time from weeks to minutes, allowing it to run at background. Restore all changes from DR site back to production workloads within a regular maintenance period.
VMware Disaster Recovery in 4 steps
1. Deploy replication agent
Choose your level of cloud integration
2. Configure replication and retention settings
Start background replication of business applications, machines data, and metadata
3. Create a DR Plan and configure auto-testing
DR plans are generated automatically based on replicated infrastructure
4. Run Recover flow when you have a disaster
Easily restore all changes from DR site back to production workloads in minutes
"Silver Lining Systems is very pleased to partner with Hystax, since our companies share the common goal of providing cost-effective solutions to our customers through automation. By leveraging Hystax technologies, we've been able to eliminate most of the manual tasks to de-risk and accelerate customer migrations to our cloud infrastructure (months to weeks) while achieving enhanced customer satisfaction, a reduction in migration costs and earlier revenue capture."

Get the industry-leading Disaster Recovery to VMware solution