Migration from on-premise to AWS
A cutting-edge solution for live cloud migration to Amazon Web Services from any source platform.
Hystax Acura is available on AWS Marketplace
for free.
Live cloud migration from on-premise to AWS in a few minutes
Hystax Live Cloud Migration to AWS replicates customer workloads running on various source platforms, including bare metal, and migrates them to Amazon Web Services with minimum disruption. Real-time background replication, fully managed migration process, orchestrated launch, predictable cutover.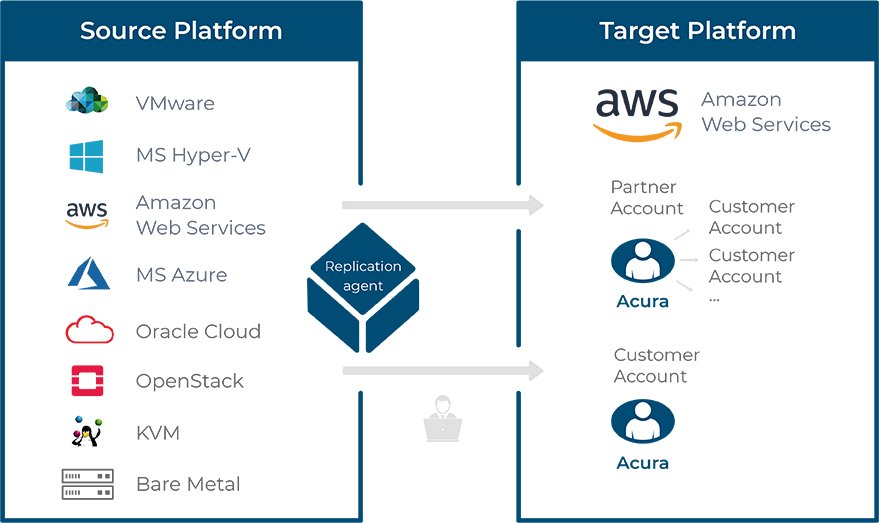 Migrate from bare metal & any cloud
The only solution to migrate even the most complex workloads from any source platform, including bare metal. A simple deployment of migrated infrastructure is guaranteed with zero dependency on a source platform.

No data loss and downtime
Hystax provides customers with enterprise-grade and reliable cloud migration. A fully-automated migration process, with external and internal live replication, prevents data loss and allows the execution of a final cutover without any production stoppage.

MSP-focused multi-tenancy private deployments
We enable our partners to manage all their customers' cloud migration projects simultaneously and easily in a single pane of glass.

An unlimited number of test migrations
Test migrations are the initial piece of a cloud migration strategy. Offering an unlimited number of test migrations to the target environment allows users to build confidence before a final cutover, and avoid downtime.

Flexible migration plans & orchestration
Automated orchestration, and predesigned cloud migration plans allow IT specialists to launch applications in a predefined order to ensure data integrity, avoid downtime and conserve resources.

MSP dashboard and reports
A sophisticated MSP dashboard allows you to perform various customers' cloud migration projects in a unified interface, and generate reports for full process transparency.
Meet Some of Our Customers
Silver Lining Systems is very pleased to partner with Hystax, since our companies share the common goal of providing cost-effective solutions to our customers through automation. By leveraging Hystax technologies, we've been able to eliminate most of the manual tasks to de-risk and accelerate customer migrations to our cloud infrastructure (months to weeks) while achieving enhanced customer satisfaction, a reduction in migration costs and earlier revenue capture.
Adrian Ma, COO at Silver Lining Systems


We are constantly acquiring disruptive next generation technologies to ensure that our Partners can always offer the latest and greatest to their customers. Hystax fits perfectly and underlines VAD's commitment of Cloudification of our Technology Portfolio.
Mario M. Veljovic, General Manager at VAD Technologies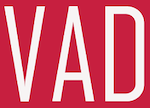 We found Hystax Acura to be a solid product that has greatly helped our customers in managing their DR replication. We have also found the combination of Hystax Acura and OpenStack to be a cost effective solution which we have offered to our customers.
Rasis Idris, Managing Director at RIXS

Get the fundamentally new solution to migrate to AWS
Step 1 - Consistent replication of any types of workloads
The process of replication is running in the background so it has no impact on the production source site. Fully-automated solution allows to do any-to-any migration in one user-friendly interface. On a simple customer dashboard, you can find information about replicated machines, migration plans and migrations running on a target AWS.


Step 2 - Automated orchestration launches fully operational business applications on AWS
All machines described in the plan will be automatically started in accordance with the orchestration conditions. No disruptions are possible.
Step 3 - Run an unlimited number of test in an isolated VPC
Hystax Acura ensures no downtime while replicating and testing migration. It provides an unlimited number of test migrations in an automated way to launch test business applications on a target site without stopping production to build confidence before doing final migration or cutover. Run a set of functional and performance tests without performance impact in an isolated VPC.


Step 4 - Final migration or cutover within a small maintenance windows
Final migration or cutover within a small and predictable maintenance window ensures seamless business processes and business continuity. Full automation of the migration process with respect to business application structure and topology makes cloud migration fast, secure and straightforward.
Hystax OptScale to enable FinOps in your company
Easily navigate cloud cost management, engage your engineers in cost saving
Public Cloud Usage Survey Report
Great critical insights on hybrid cloud management benchmarks, trends and best practices
Hystax Acura Cloud Migration: End-to-end Demo
An overview of a machine migration process. The stages of machine replication, migration plan generating, and a cloud site launching are demonstrated in the video
Reach out with questions, feedback and ideas.
We are always happy to connect