Various cloud migration techniques exist, and different cloud configurations are available. However, the trend toward multicloud and hybrid cloud setups is becoming more evident. Despite often being conflated, these two strategies have distinct characteristics.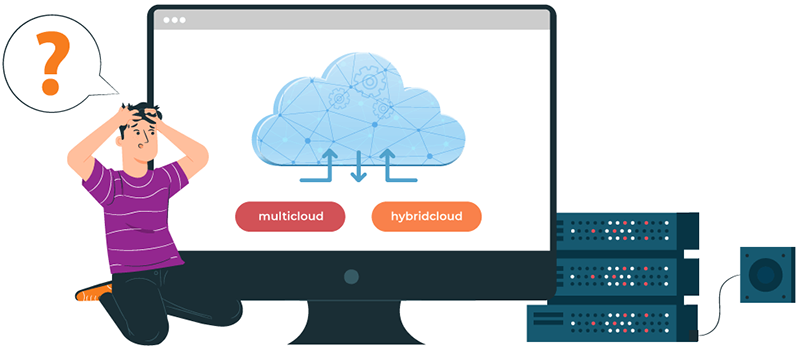 Understanding a multicloud
A multicloud cloud infrastructure harnesses technologies and tools from diverse vendors and frameworks.
When might a multicloud setup be necessary? Consider a scenario where corporate executives transition their workloads to a cloud infrastructure. Their shift from on-site servers to the public cloud is primarily driven by the need to support a particular client-oriented application that experiences wildly fluctuating usage rates. After some investigation, they identify a public cloud service provider that offers convenient features and meets all their requirements, making this provider an ideal fit. However, there might be a time when clients demand features that the existing cloud setup can't accommodate. The optimal way to introduce these features could involve a specific application that only operates on a particular cloud – hence, adopting a multicloud setup that includes two clouds from two distinct vendors.
This represents just one scenario where multicloud systems are beneficial, and such instances are becoming more common, mirroring the rising popularity of multiclouds. According to recent data from Gartner, the uptake of the multicloud approach has grown dramatically: from only 10% of cloud users in 2015 to 81% now, with these users operating with two or more cloud service providers.
Understanding a hybrid cloud
While multicloud revolves around selecting various vendors, the hybrid cloud strategy involves distinct types of deployments – namely, public and private. For example, a business might utilize a private cloud for secure internal data storage while exploiting a public cloud's resources.
A hybrid cloud setup grants organizations the benefits of private and public clouds, allowing them to select the appropriate cloud model based on their specific data processing needs. Businesses can swiftly and cost-effectively optimize their resource allocation and utilization using a hybrid cloud. Moreover, they can safeguard critical data within a private cloud and swiftly augment computing, storage, or network bandwidth in a public cloud to manage sudden spikes in load.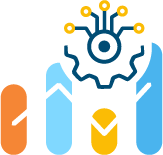 Free cloud cost optimization & enhanced ML/AI resource management for a lifetime
What distinguishes multicloud from hybrid cloud strategies?
The primary distinction between multicloud and hybrid cloud has been highlighted: multicloud involves arrangements with two or more public clouds. In contrast, a hybrid cloud comprises a mix of private and public cloud environments.
In contrast to a multicloud strategy where IT professionals must manage each cloud environment independently, hybrid cloud operation depends on a unified control plane. As a result, hybrid clouds concentrate more on utilizing native cloud resources efficiently, managing costs, using native tools, and providing native performance analytics. On the other hand, multicloud environments typically find it easier and more efficient to use third-party services.
Despite these differences, both strategies share some similarities. By design, hybrid and multicloud setups require various security tools and approach across different clouds. On the other hand, they share expected benefits, such as the ability to share data between clouds and extend databases across clouds, as well as drawbacks, like migrating cloud-native workloads. To maximize the potential of both hybrid and multicloud strategies, it's advisable to utilize cloud migration and management tools.
Selecting the right cloud migration solution
Cloud migration can be a complex process, laden with critical subtleties that must be carefully considered to ensure a successful transition to the cloud. As such, many businesses prefer to employ migration solutions that simplify the cloud migration process and reduce potential mishaps.
But what constitutes a good cloud migration solution?
Such a solution should support all primary cloud platforms, facilitating the migration of your organization's data, applications, and workloads from any source cloud platform or physical machine to any other cloud platform.
It should be equipped with pre-packaged features, such as unlimited test migrations, a managed migration process, a coordinated launch, and a foreseeable switchover – all of which contribute to a seamless migration and a robust, error-proof cloud migration solution.
It should aid in time-saving to maximize cloud migration cost-effectiveness.
It should be user-friendly and adaptable, equally suitable for advanced users, who can create a migration plan from the ground up, and for novice users who prefer pre-set configurations.
Security is paramount.
Finally, it should be as automated as possible to minimize manual intervention.
What defines an effective cloud management tool?
There are a plethora of providers offering tools for managing multicloud and hybrid cloud environments.
When selecting the appropriate tool, specific properties should be factored in:
User-friendliness. Each new tool implementation necessitates time and resources to educate IT professionals.
Management prowess. A suitable tool should address all necessary use cases.
Security is a constant concern. Cloud management tools can be susceptible to risks, making finding a tool that satisfies your security demands crucial.
Monitoring capacity. Efficient management of complex environments like multicloud or hybrid cloud is impossible without proper monitoring – they are invariably intertwined.
Versatility. The ability to handle various hybrid cloud and multicloud configurations competently is a substantial advantage for a cloud management tool. Without this, it may create additional hurdles for users navigating complex cloud environments.
Hybrid and multicloud setups are the impending future of cloud computing, offering numerous benefits. However, cloud migration and management still present multiple challenges. This is where suitable solutions and tools step in – undeniably making the lives of IT professionals and business owners more straightforward and saving both time and money. The above considerations must be considered to identify the most appropriate tool and solution. This is critical, as selecting the proper software will exponentially enhance your organization's efficiency.