Business environments continue to modernize to account for today's remote work needs. More businesses have virtual or remote teams in place, and it's leading to greater adoption and usage of the cloud. However, cloud spends can really eat away at a company's IT and technology budgets if they don't consider cloud cost management strategies.

With Gartner projecting that global spending on cloud services will exceed $482 billion in 2022 – an increase from the $313 billion spend of 2020 – company leaders are constantly looking for ways to reduce their spends. While there's no such thing as a free lunch, there are ways to get free AWS credits, which can greatly help. AWS credits can help you save thousands on your Amazon Web Services bill.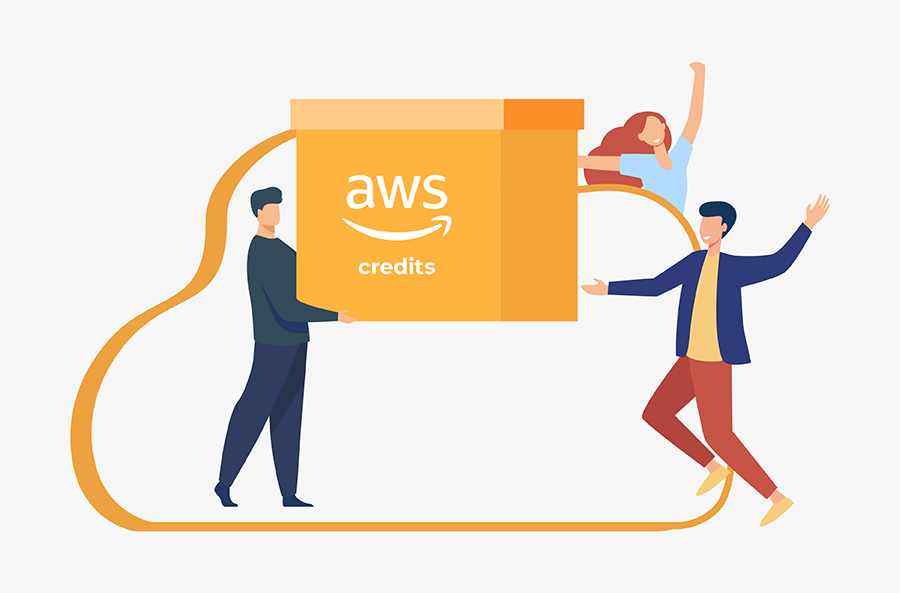 Businesses and their Finops teams who are using and monitoring Amazon Web Services can look to achieve cloud cost optimization in the standard ways they would with any cloud provider they're using. However, AWS credits can be costly and businesses can benefit from a few tips and tricks to help with their AWS cost optimization.
If AWS cost management or the idea or insights on how to reduce cloud costs sounds appealing to you, you're not alone. There are finite ways to receive free credits, including simply asking for them, applying for additional credits, making purchases that grant them to you or setting up a method that rewards you with AWS credits. Here are some ways your team can receive free AWS credits to help with AWS cloud cost management. 
Free cloud cost optimization. Lifetime
1. Ask AWS support for some assistance directly; it works
Depending on the situation and your cloud optimization efforts and needs, the AWS support team might be able to help you with a cost break or an incentive. Especially for those who are newer to the platform or who are trying out different tactics and who make a mistake, AWS support is known to have some sympathy for you. Learning how to keep cloud costs under control, especially if you're not using a special cloud cost management platform like OptScale, can prove to be tricky. AWS can be quite responsive to helping you. They may credit you back some or all of your spending. While this method can't be repeated often, it can be something to try here and there if you feel you can build a case for something gone wrong.
2. Embrace not just AWS, but the Amazon family of brands and reap the benefits
AWS can be daunting at first, but with greater engagement and by simply poking and prodding around with the solution more, business professionals will uncover more ways to earn free AWS credits. The first step may seem intuitive, but having your AWS account set up and then opting to receive promotional emails can alert you on ways to receive credits. You'll be notified of offers when you create additional accounts, fill in surveys, register for events, and more. Purchasing items through the AWS Marketplace, attending webinars and live events, and visiting booths at conferences can all offer you more opportunities to earn. You can also look for ways to engage with Amazon's other offerings, such as Alexa. By adding Alexa skills, you can accrue $100 credits each month.
3. If you're a startup, apply for an AWS Activate, a credit program
Depending on the size of your startup and its funding stage, AWS will offer startups credit and discount programs. The AWS Activate Portfolio can offer you up to $100,000 in credits. These credits can help with services, support, and training. In order to qualify, your startup has to be less than 10 years old. You also can only apply if you've received Series A funding or no funding. If you make the cut, you'll likely receive $1,000 in service credits and $350 in developer support credits, which last for a full year. While $1,000+ in credits is great, you'll still need to be conscious of your cloud usage as it can get spent quickly.
4. If you're an academic researcher or in the education sector, apply for AWS Cloud Credit for Research
There's an AWS Cloud Credit for Research program which exists to help academics and researchers. The program offers significant credits for professionals under this category who turn to cloud computing for their research workloads or are crafting public science-as-a-service applications. Faculty awards are uncapped, which can help tremendously.
5. If you're an EdTech startup, look into AWS EdStart
AWS EdStart not only provides training and support to early-stage companies or those looking to scale their existing offerings, but also AWS promotional credit. AWS refers to these two groups as "innovators" and "members," respectively. AWS EdStart will look at each startup individually and provide aid accordingly, so it's not a uniform process for all, but can still help.
6. Consider how AWS Educate can help you
AWS Educate is a hub for students who are trying to build on their cloud computing skills, however, it can also assist others by providing them with promotional credits. If you can make a case for needing them for educational reasons, you may be able to receive free credits through that hub as well.
7. If you're a nonprofit, the AWS Imagine Grant can be of service
If you fulfill the nonprofit criteria, the AWS Imagine Grant program may be able to offer you anywhere from $10,000 – $100,000 in promotional credits. Oftentimes, these grant funds are given to institutional leaders who are migrating their workloads to the cloud or those who are innovatively using cloud services. There's also the AWS Nonprofit Credit Program, which provides $1,000 of promotional credit to nonprofits that meet its criteria. There is a $95 upfront administrative fee to consider, but the free credits available definitely make up for that fee.
If you subscribe to a members–only community, you'll open up more opportunities to obtain AWS promotional credits, which are often offered to members. For example, there's Secret ($199 annual membership fee) which is a helpful resource for startup offers and advice, as well as Extra Crunch by TechCrunch ($99 annual membership fee), both of which typically grant you access to entrepreneurial communities and $5,000 and $1,000 AWS promotional credits, respectively. You can also look into Y Combinator's Startup School, Product Hunt, and Stripe Atlas as well. Many of these communities and incubator programs provide early-stage businesses with the much–needed additional AWS credits you're seeking, so consider these as resources that can assist you.
One more option to get AWS credits is to use FounderPass, which provides access to discounts on software and tools for businesses, including AWS. Up to $10,000 in AWS credits could be granted to companies with the help of this service. 
9. Seek out AWS Partners and credit transfers they can provide you
AWS has relationships with many partners, and these partners often have either promotional credits or discounted pricing to take advantage of. They're also in the know about new offers, cloud usage optimization strategies, and much more. Your company may be privy to their discounts and ways to leverage their free credits as well if you take the time to also establish a relationship with an AWS partner. These AWS Partners can also make sure you're aware of offers as they hear about them first.
10. Rely on a partner like Hystax with its cloud cost management platform OptScale, and less on needing free credits
While there are multiple ways to gain free AWS credits, as your business invests more in its cloud efforts, it's not a strong strategy to rely on or build hopes of securing them into your cloud budgets or FinOps strategies. Instead, utilize a solution like OptScale which can help you build an ongoing cost-savings process. OptScale provides you with the visibility you need to cut cloud costs. The result of utilizing the FinOps platform is significantly reduced monthly cloud bills with greater abilities to monitor cloud efforts and optimize cloud costs accordingly. For example, OptScale allows you to set alerts to inform you when costs are approaching levels that are higher than usual. Having a dashboard in place will help you manage all AWS efforts, as well as your multi-cloud efforts, so you can put less pressure on securing AWS free credits or others.
Elastic IP addresses on Amazon EC2 are free of charge, but only in case of the following rules are applied. Get more details about the rules of using Elastic IP addresses on Amazon EC2 and start to save your company's cloud budget → 'How to release Elastic IPs on Amazon EC2.'