In one of our previous articles, we have already discussed what advantages cloud financial management or FinOps can bring to businesses. In a few words, it considerably saves money, helps organizations grow revenue, become more profitable, and achieve better overall business risk management, operational resilience, and staff productivity – all these conclusions are backed by surveys and data.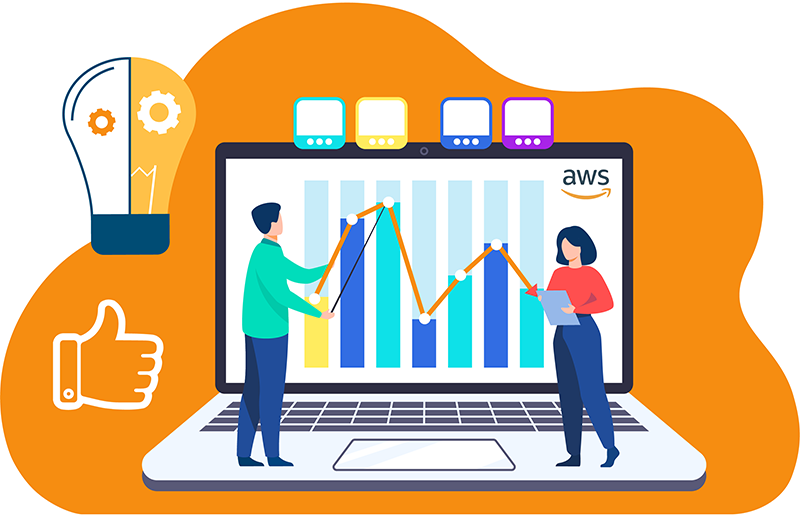 Otherwise, without proper cloud cost management, there is a risk of facing different issues, for instance, the ability to efficiently scale the cloud can become a time bomb for the company's finances.
In the case of using Amazon Web Services, the risk can grow exponentially since AWS is very flexible, has rich functionality, and offers many additional useful features. The flip side of the coin is that each new plugin and instance increases the cost of using the cloud as a whole, has its own price formation logic, and if your company has more than one development team, without any in-depth analysis, it will be impossible to determine which of them has spent how much money and on which cloud services.
Suppose you have implemented the FinOps operating model for cloud cost optimization and transparency in your company. In that case, you are already significantly reducing the risk that your AWS cloud bill will come as a shocking surprise at the end of the reporting period. However, there is a convenient approach that will help your FinOps team further reduce AWS cloud costs by using a capability many organizations tend to overlook – AWS cost allocation tags.
Free cloud cost optimization. Lifetime
What are AWS cost allocation tags?
Simply put, AWS cost allocation tags are metadata that can be assigned to each of your AWS resources so that you can track your AWS costs in detail. Every tag consists of a unique key and value, with only one value per key. 
There are two types of cost allocation tags: AWS-generated tags and user-defined tags; both types must be activated separately before they can appear in Cost Explorer and on a cost allocation report.
AWS-generated vs. user-defined tags: which to choose, when and why
Once activated, AWS-generated tags are defined, created, and applied automatically by AWS. For some organizations, it's an overwhelming task that cannot be carried out properly – and this is where AWS-generated cost allocation tags can help: they will appear for most (but not all, which is an essential disadvantage) services and resources launched on the Amazon cloud and will be enabled for all of the member accounts by default. Since this tagging method is totally controlled by AWS, you have no flexibility in deciding what to tag and what doesn't need to be tagged, how to classify instances, and so on.
User-defined tags, on the other hand, can be defined, created, and applied (or not applied) to resources manually, which provides you with more tagging options. At the same time, this approach requires time, effort, and diligence so that at the end of the day, no tags are missed, no resources are left untagged, and the resulting cost allocation report is good to go.
The best practice here is, obviously, to enable multiple user-defined tags to be able to get insightful and detailed cost allocation reports that can be broken down by specific parameters, and here are the most ones:
Owner – shows which team, or a team member, is responsible for a particular resource

Stack – relates to an environment: development, testing, staging, or production

Cost Center – a department which costs can be allocated to (in most cases, has a numeric ID)

Application – a name of an application that runs on particular resources.
Other best practices for using AWS cost allocation tags
Keep tags consistent and up-to-date. When it comes to user-defined tags, you must have someone on the FinOps team responsible for identifying tags, defining proper values for every key, and ensuring everything runs like clockwork.

Create a tags documentation and stick to it. For the sake of transparency, every member of every technical team needs to have access to the tags nomenclature.

Avoid overuse of tags. AWS allows creating up to 50 per resource, but this doesn't necessarily mean that you need to create an additional tag at every opportunity – use them moderately.

Propagate tags across related resources at the same time avoiding multiple cost allocation errors. 

Use automation and integrations with AWS or third-party services when necessary. There are numerous tools that can help your FinOps team automatically generate tags upon resource creation – and do many more things apart from cost allocation.
AWS cost allocation tags use cases
It is common when one test environment is shared for running tests between a number of people simultaneously that may lead to collisions and other undesirable consequences. For proper environment usage with minimal negative results and beneficial collaboration, it's advisable to create a single dashboard like OptScale has, where it's possible to generate for any person, distributed team an easy-to-use schedule.
Not only do AWS cost allocation tags help achieve cloud cost transparency, but they also provide other benefits if you apply them to your resources.
As we already said, you can use multiple tags per resource. Thus, you can introduce tags for automation purposes: they can be used to opt into or out of automated tasks or to identify specific versions of resources to archive, update, or delete. 
There are also other less obvious but no less useful tags that are used for security risk management, identity and access control, operation support – and much more.
Despite the unprecedented cost control opportunities offered by using cloud services, not all native cloud tools can ensure convenient and transparent cloud cost management, as well as squeeze the most out of other AWS use cases cost allocation tags.
Unlike most third-party tools on the market, Hystax OptScale offers a particular approach to AWS cost optimization and management, equipping your FinOps and IT teams with innovative software for cost analytics across cloud resources and their owners, business units, applications, and CI/CD jobs. 
Hystax OptScale is the right solution to keep cloud costs under control, ensure 100% predictability, reduce AWS cloud cost, and ensure proper AWS cost management. To learn more about its functionality and features, refer to this page.