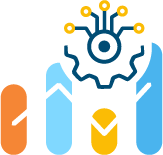 Free cloud cost optimization & enhanced ML/AI resource management for a lifetime
When you first meet it, it can be intimidating – it has many elements interacting with each other. At the same time, many of the features of the mentioned maturity levels can be found in them. At least automated pipelines, CI/CD, Monitoring, Model Registry, Workflow Orchestration, and Serving Component.
💡 You might be also interested in our article 'What are the main challenges of the MLOps process?'
Discover the challenges of the MLOps process, such as data, models, infrastructure, and people/processes, and explore potential solutions to overcome them → https://hystax.com/what-are-the-main-challenges-of-the-mlops-process. 
✔️ OptScale, a FinOps & MLOps open source platform, which helps companies optimize cloud costs and bring more cloud usage transparency, is fully available under Apache 2.0 on GitHub → https://github.com/hystax/optscale.