With the development, growing popularity, and ever-increasing public availability of cloud services, many organizations have decided to migrate to the cloud – and by this step alone, they have seriously reduced the cost of server equipment. However, further cloud infrastructure optimization and competent tracking of such costs cause serious difficulties for the overwhelming number of companies.
However, many business owners and CTOs ignore the fact that a trained person should be involved in purchasing, scaling, and managing cloud resources. Instead, such a task is sometimes given to people who lack competence, either in the technical or financial fields. Such examples of an ineffective approach to solving this problem are fraught with serious costs for the business.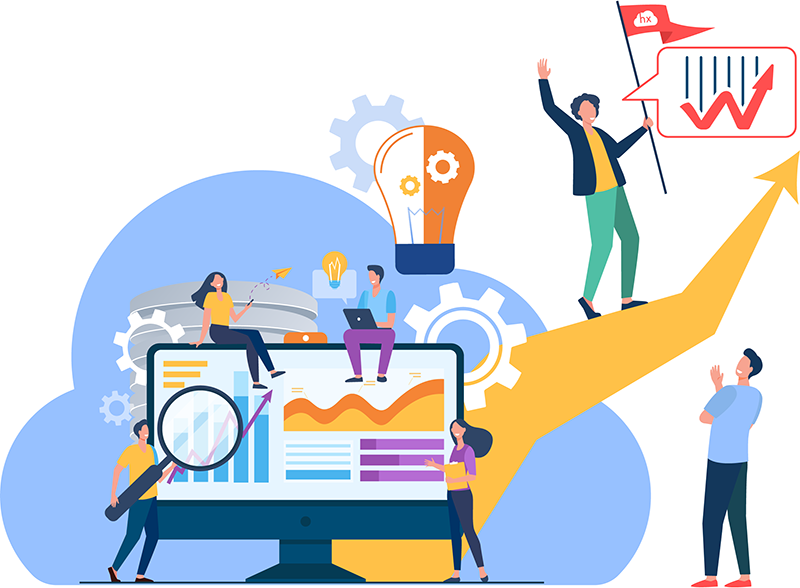 Only a few years ago, a FinOps role appeared on the market. The first companies to introduce it in early 2010s were forward-looking enterprises such as software giant Adobe and Intuit, a longtime leader in financial technology innovation. Back in the day, there were 'cloud cost managers' or 'cloud cost optimizers,' being eventually titled 'FinOps.' This compound term obviously and purposely resembles DevOps – that emphasizes its belonging to the IT world.
FinOps is just such a specialist who combines the best of both worlds – technical and financial. FinOps' mission is to help enterprises better plan, calculate, and forecast cost requirements for cloud services consumption, which ultimately results in lower – or more efficiently allocated – IT infrastructure-related costs for the company.
Detailed description of the FinOps role
In general, FinOps specialists are highly demanded by those companies that are very dependent on cloud services, and at the same time, strive to make the costs of cloud services conscious, optimal, and as transparent as possible.
To realize it, a FinOps specialist should be accountable for accelerating cloud cost optimization, achieving full cloud cost transparency, and building a collaborative, cross-functional team of engineers. Let us take a closer look at the primary skills and responsibilities of a FinOps specialist.
Free cloud cost optimization. Lifetime
There is a common misconception that FinOps is all about saving money. Actually, FinOps is much more about making money. Cloud spending – if the money is well-spent – drives revenue and helps businesses grow by helping increase agility and product development velocity. However, every company needs to be sure that a particular set of cloud resources is, in fact, valuable. From this perspective, a FinOps specialist should focus on making real-time decisions about cloud usage, cloud cost allocation, as well as identifying cloud consumption anomalies and ensuring efficient spending. All this requires decent project management skills and flexibility: a FinOps specialist should be able to optimize cloud costs so that it won't reduce the speed of innovation – excessive and, what's more critical, unjustified cloud costs reduction will have its negative consequences.
To wrap it up, a FinOps specialist should: 
understand why certain cloud resources were purchased

know how these resources are used and how much they cost

be able to redistribute them depending on the business' and teams' needs

should never purchase anything 'for later' without a clearly defined plan.
Achieving full cloud cost transparency
In the modern IT world, where every second counts and a decision taken at the wrong time can lead to losses of hundreds, thousands, or even millions of dollars, FinOps reports should necessarily be accessible and timely. Nowadays, old-fashioned monthly or, especially, quarterly reporting is just not good enough to decide what cloud usage adjustments need to be made. IT specialists who deploy cloud resources urgently need a fast feedback loop to quickly and continuously improve their efficiency, making informed, data-driven decisions.
Building a сross-functional FinOps team
What really makes a truly great FinOps specialist is the ability to bring in a substantial cultural shift and change of mindset within the company they work for. He needs to be able to break down a 'barrier' between teams that have never historically worked together. 
In fact, FinOps specialists should collaborate with DevOps on the one hand and the finance department on the other, acting as an effective intermediary and, most importantly, an analyst, 'translator,' and conductor of ideas in both directions.
When this mutual integration is done right, the financial department takes on more responsibility for achieving IT metrics. At the same time, engineering teams start considering cost as one of their primary efficiency metrics and become more accountable in terms of cloud spending. The ultimate goal of this integration is to raise awareness: all financial and engineering employees should know why they're making certain decisions.
Now, the FinOps role is being adopted worldwide; job listings for FinOps managers at big cloud-based organizations are trending on LinkedIn. In leading IT enterprises, there are even entire FinOps teams that develop automated systems for cost accounting and search for cost optimization when using cloud services, as well as for collecting and analyzing recommendations for improving existing services. And there are reasons for this: in modern IT companies that rely on cloud services, it's hard to keep profitable without optimizing  IT infrastructure costs, which is challenging to do without a competent FinOps specialist.